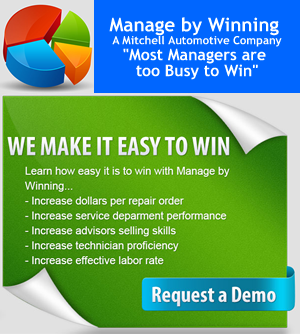 Our training programs are backed by our custom Manage by Winning software. Manage by Winning assesses management and front-line professionals. Immediately implementing a two-pronged approach; this successful training strategy places trainers side by side with the department managers. A thorough review of the manager's business acumen, use of available management tools, and their efficient use of resources and staffing is initiated. Likewise, standing side-by-side with working professionals, instructing, training, and most importantly, encouraging a culture; an environment of learning and customer service within their departments. Manage By Winning trainers are personable, seasoned veterans of the industry that will guide your managers and staff through an exciting learning process from which they will experience obvious personal growth as well as significant business development. Manager's expertise and skills will expand beyond their expectations from that of "firefighters" to mentors and leaders. This is our focus; your success is our challenge.
Service Manager Training
Mitchell Automotive Service focuses on service personnel and how they affect the customer and the organization. We define service processes as individuals and comprise these ideas to develop service managers as consistent leaders of customer service. We then analyze these practices to maximize overall department efficiency and profitability. Our final step is assisting service management in observing and supporting each individual service employee with processes that fall outside of their current training and methods of conducting day-to-day business. Through small changes with each individual, we create an atmosphere of consistency in service and ultimately a paradigm shift towards a culture of teamwork and dealership success.
First, we meet with dealer principal and service/parts managers to define:
A service model - how do we want our people to do business? From a very broad prospective, define issues of honest business practices, sales tactics, career development, and customer service.
A template outline of all processes involved in customer service, job dispatch, invoicing, warranty, and job descriptions.
Our next step involves personnel (from an outside source) going into the dealership to observe each individual service employee and how he/she specifically completes each of our defined processes. These observations are not pervasive and do not attempt to criticize, analyze or interfere with current practices. This is merely an information gathering process.
We then look at this compiled information and attempt to create a detailed process for each step involved in the service employee's day. We look at what works specifically for this dealership and apply industry best practices to develop a working model for service.
After completion of the operations manual, we review our findings and opinions with service management and the dealer principal. We then formulate your final operations manual for the dealership. We also include a review process for service management to set specific goals for each individual service writer and clearly define what is expected of each writer upon implementation of these processes. We do not expect immediately for all personnel to conform to new practices and ask that service management follow the review process. Support and consistency in dealing with each individual are paramount in making this program a success.
In store visits are tailored to assist management with specific issues of each individual service employee and to review and adjust processes to meet the needs of the department.
Service Advisor Training
Most dealerships have a job description for every position in the service department. These job descriptions are very general and in most cases are never revised and the service advisors are not held accountable.
Mitchell's meets with all decision makers discuss and set standards. These are the standards in which every service advisor should adhere to. Service advisors are expected to follow these standards in every customer and vehicle interaction. Once we have the standards, we then review them with the service advisors. We suggest that the manager meets with each service advisor for fifteen minutes each week to review the standards and hold the service advisor accountable for following the standards.
Often, we find that dealers spend a considerable amount of time creating standards only for everyone to forget about them the next week. Our custom software, Manage by Winning, allows the service manager to review service advisors' performance on these standards. We not only want to implement a good foundation, but we also want to see that foundation remain in place until it becomes second nature in the culture of the dealership.
Phone Sales Training
Why use Mitchell's phone training? We have over 40 years of establishing sales strategies, dealership cultures, and successful real-world strategies that will transcend a dealership's operating culture from an environment of impulse management to one of internal coaching, accountability, and teamwork.
What is a Mystery Caller? Phone calls made to the dealers by professionals who pretend to be customers following a pre-determined script. The mystery caller creates all kinds of situations to test the staff in their professionalism and sales strategy. A "Mystery-Caller" simulates an attempt of a purchase/appointment and evaluates based on predefined quality characteristics.
Objective Establish a sales strategy that matches the dealership's sales culture with follow-up to maintain the culture. Obtain an uncontested process of the company's inbound calls, thus showing vital points which could not be identified by the owners/principals/managers on strategy culture.